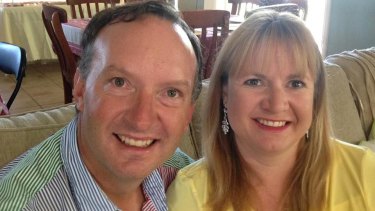 By Harriet Alexander
For entire article, click here.

In the months before the death of Walcha sheep grazier Mathew John Dunbar in August 2017, the internet history of his partner suggested an expanding interest in ways to take a life.
In February, Natasha Beth Darcy allegedly researched poisonous spiders, fungi and snakes. By March, she was running searches on epidurals, spinal taps and the number of tablets required to be taken to execute a suicide. In June, she allegedly typed into a search engine: "how to commit murder".
Natasha Beth Darcy, 46, was the sole beneficiary of Mr Dunbar's estate, which included Pandora, a 1200-acre property on Thunderbolts Way in northern NSW valued at $3.5 million. She has pleaded not guilty to his murder.
On the opening day of her trial in the NSW Supreme Court on Wednesday, the jury heard that Ms Darcy ran dozens of searches on lethal drugs and ways to die without detection. Other web pages she visited included: "Want to get away with murder? Use a special detergent" and "11 toxic plants that look like food".
In July she hit upon a blog that recommended helium, then allegedly ran several searches on where the gas could be obtained.
The day before she is alleged to have killed Mr Dunbar, she looked up "can your internet phone history be tracked by your internet provider", the court heard.
Ms Darcy later told police that many of the internet searches were conducted by Mr Dunbar and she did not know the password to the home computer.
On August 1, 2017, she is alleged to have spiked Mr Dunbar's drink with a mixture of drugs including a ram sedative and secreted a helium gas bottle behind his bed. Crown prosecutor Brett Hatfield said a shower hose was removed from the laundry and inserted into the gas regulator at one end and tied onto a plastic bag on the other end with a white elastic band.
"The accused placed a plastic bag over [Mr Dunbar's] head, securing it with elastic," Mr Hatfield said.
"The gas bottle was turned on and helium gas went into the bag, displacing the air, the oxygen in the bag and … causing his death by asphyxiation."
She called triple zero about 2am, but paramedics were unable to resuscitate Mr Dunbar and he died at the scene. Police found a glass tumbler and a "magic bullet" appliance for mixing ingredients in the dishwasher. Both were allegedly found to contain traces of a combination of substances, including sedatives.
Mr Hatfield told the jury that evidence would be produced about two previous incidents involving Ms Darcy and her husband, to whom she was still married but separated from at the time of Mr Dunbar's death. On one occasion, her husband woke up with a head injury a few days after she had allegedly inquired of him how hard somebody had to be struck in the temple to cause damage. Police blamed an intruder.
Three days later, she is alleged to have given him a cocktail of drugs to put him to sleep and set the house alight.
Defense barrister Janet Manuell, SC, said Ms Darcy admitted to helping Mr Dunbar commit suicide, but the Crown had rejected her offer to plead guilty to assisted suicide. The evidence would show that Mr Dunbar suffered from depression, despised his late adoptive father and had tried to find his birth father. He was conflicted about his sexuality, struggling with childlessness and living beyond his means, Ms Manuell said.
He threatened suicide in June 2017.
"The real question for you is whether Mr Dunbar committed suicide with Ms Darcy assisting him or whether she murdered him," she told the jury.
The trial continues.